The Fierce Reflex Debut replaces the former Youth and Amateur Bag and is now an improved version of both!  This bag has the industrial strength and durability as its counter products the Pro Elite and Hybrid Elite.  It is intended for the professional boxer of the lighter weight classes but it can handle the the power of a welterweight.     The chart below displays the skill components this bag will help develop.
Skill-related components
| | Definition | Example |
| --- | --- | --- |
| Agility | The ability to change the position of the body quickly and control the movement | A boxer needs to learn how moving around the ring from side to side using footwork and efficiency |
| Balance | The ability to maintain the body's centre of mass above the base of support | A Boxer needs to have the ability to maintain balance from the time the starting bell rings to the end. |
| Coordination | The ability to use two or more body parts together | A boxer needs to develop coordination when using their footwork and arms in order to deliver that winning punch spot on. |
| Power | The ability to perform strength performances. | A Boxer with power is a force to reckon with.  When a boxer applies power to their punches and has precision they will be sure to throw that winning punch. |
| Reaction time | The time taken to respond to a stimulus - reflex. | A boxer perceives a punch from their left and rapidly moves their head to avoid being struck. A boxers reflex time is key to avoiding punches thrown at them. |
| Speed | The ability to put body parts into motion quickly | A boxer with great hand speed has power.  Speed is power.   |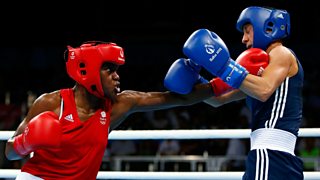 We are proud that CELEBRITY COACH "MITT QUEEN"  endorsed this particular product and has tested the Amateur and is super excited by the speed and reflex!
Notice for international orders: Tariffs, duties, and import taxes may apply to international orders and will be the responsibility of the purchaser once they receive their product.
Restocking fee notice: Please note that a 15% restocking fee will be applied to orders of Pro Elite Bags, Amateur Bags, and Youth Bags if items have been delivered or have been set to be delivered.  *Featured Product displays a white accessory bag which can be purchased additionally under our Accessory Menu.
Our products are proudly made in the USA.